Scooter Accident Lawyers in Denver
Electric scooters are rapidly becoming more popular among Denver residents as an expensive, quick, and fun way to commute around the city. Even though scooters are street legal, they still pose similar threats to riding a motorcycle. Moreover, drivers are still getting accustomed to sharing the roads with scooters, so unsurprisingly, there have been hundreds of scooter accidents reported in Colorado in the last couple of years. If you've sustained injuries as a result of another party's negligence, you can seek compensation for medical expenses, lost wages, and non-economic damages.
At the Law Office of Jarrett Benson, we believe that even in a time where scooters have become popular in the State, there's still a bias against riders from witnesses, insurance companies, and the police regardless of the party at fault due to the actions of reckless riders. Our lawyers understand this and know what it takes to pursue these unorthodox accident cases. Since our founding, have helped hundreds of clients reduce their damage expenses by claiming their rightful compensation and achieved record-breaking settlements and verdicts.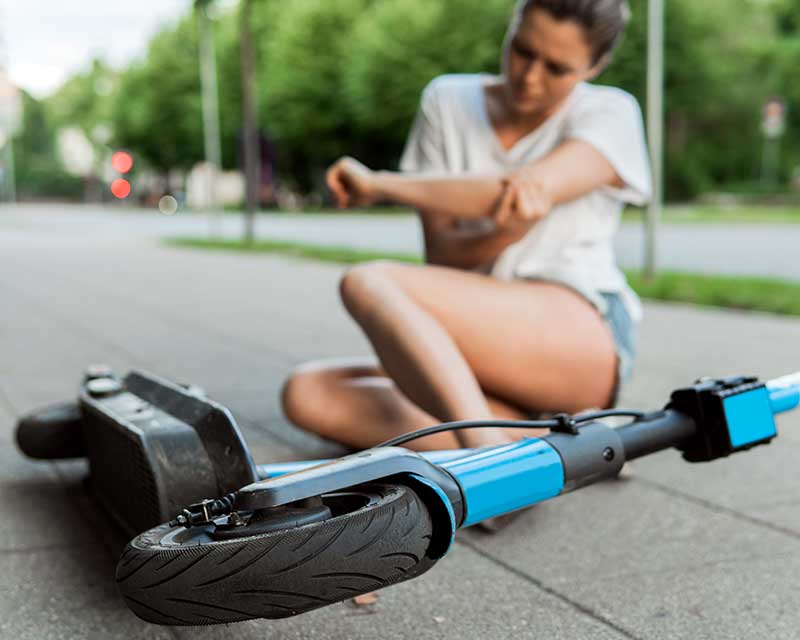 Common Causes of Scooter Accidents in Denver
Distracted driving

Road hazards, such as bumps, debris, or obstacles

Driving under the influence

Scooter malfunction (brake failure, flat tires, motor issues)

Swervings and doorings
Common Scooter Accident Injuries
Facial injuries

Road rash and burns

Fractures

Bruising and lacerations

Traumatic brain injuries

Amputation

Paralysis

Death
Who Is At Risk for Scooter Accidents?
Every scooter is at risk of getting into an accident. However, people at greater risk are those who:
Don't wear a helmet

Overspeed

Ride under the influence

Are underage

Ride on interstates, sidewalks, or bicycle lanes

Don't follow the traffic rules
Scooter Laws in Colorado
All Scooter riders in Denver, Colorado must abide by certain laws and regulations set by the State's Department of Transportation to operate a scooter legally. Here are some specific traffic laws for scooter owners
Riders under 18 must wear a helmet approved by the DOT.

All riders must wear some form of eye protection.

Riders cannot operate a scooter on an interstate, busy sidewalk, or limited access roads.

Riders require a basic Class R driver's license to legally ride a scooter.

All scooters must be registered with the State of Colorado
Scooter Accident Claims and Recovery
Scooter accident claims are similar to motorcycle accident claims since they usually carry additional prejudices and liability issues due to bias surrounding riders. Thus, many juries vote in favor of the defendant and reduce or reject settlement claims. An experienced Denver Scooter Accident Attorney will help determine the fault of the accident and estimate the cost of your economic and non-economic damages. Be it an at-fault driver, scooter manufacturer, rental company, or trucking company, the lawyer will seek a fair settlement for all damages or take your case to trial for a verdict.
Why Choose Us as Your Scooter Accident Attorneys?
10+ years of experience in vehicle accident cases

Hands-on case management with a proven track record

Expert resources and negotiation strategies to tackle insurance companies

Millions of dollars in compensation recovered
Initial Case Review
Pre-Suit
Litigation & Trial
Settlement
Contact Jarrett Benson Today
Request a Free Consultation
If you have sustained injuries in a scooter accident, our highly skilled Denver, CO car accident attorneys can help you take the proper legal action and get full compensation for your medical bills, scooter damage, mental trauma, etc. We're just a phone call away. So, feel free to reach us at (720) 730-3345 or use the contact form for a free consultation.