Pedestrian Accident Lawyers in Denver
Denver is among the prime locations for outdoor enthusiasts due to stunning mountain ranges, abundant outdoor spaces, and busy streets. Therefore, many locals often walk for pleasure and commuting purposes instead of driving or taking the bus. Even though the city is great for walking, pedestrians often share the roads with trucks, cars, and motorcycles, which is not only dangerous but potentially deadly. Pedestrian accidents can result in serious injuries that can put the victims out of work for weeks or months and force them to face expensive medical bills.
If you've sustained injuries from a pedestrian accident, consult an experienced Denver, CO pedestrian accident lawyer to help you seek maximum compensation for all damages. At the Law Office of Jarrett Benson, we understand how traumatic these accidents can be, and our team will fight to ensure you're fully compensated by the liable parties and insurance companies.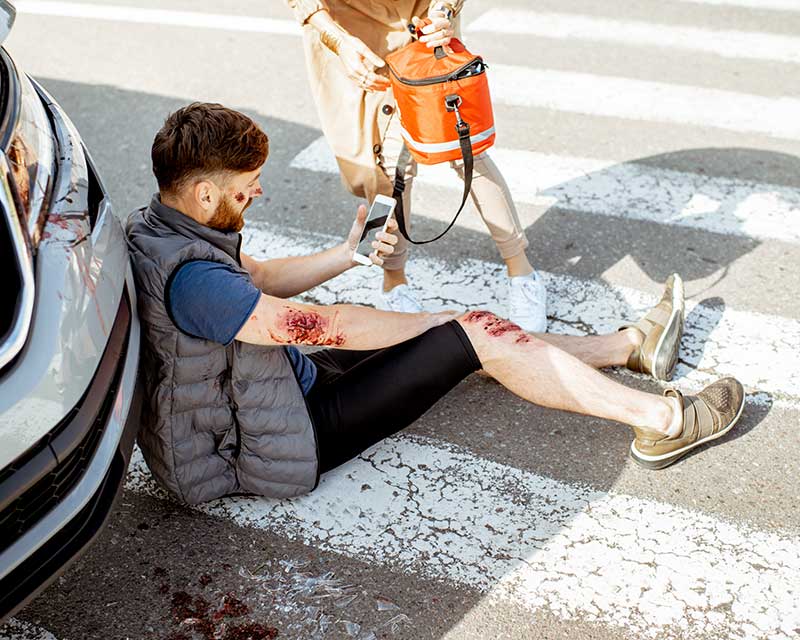 Causes of Pedestrian Injuries in Denver
Inexperienced drivers

Distraction

Reckless driving

Driving under the influence

Speeding

Dangerous road conditions or weather

Vehicle failure

Failure to stop at a crosswalk, stop sign, or red light

Driving in the bicycle lane
Common Pedestrian Accident Injuries
Concussion

Broken Bones

Cuts and lacerations

Traumatic brain injuries

Amputation

Paraplegia

Burn injuries
Why Choose Us as Your Pedestrian Accident Attorneys?
Over a decade of experience fighting hundreds of pedestrian accident cases

Millions of dollars in compensation recovered

Hands-on case management with superior consultation, filing, and resolution

Long-term relationships with traffic reconstruction experts, forensic teams, and medical professionals
Pedestrian Accident Claims and Recovery
The pedestrian accident claims and recovery process can be extremely complicated, especially if you're dealing with injuries and trauma. An experienced Denver Pedestrian Accident Lawyer will take care of the entire legal process, from filing insurance claims to managing court hearings and trials. They will conduct a detailed investigation of the incident by interviewing medical officers, police officers, and other witnesses present at the accident site and gathering evidence using pictures, security footage, and testimonies.
Our expert attorneys can help you recover compensation for a variety of expenses, such as:
Past and future medical bills, including doctor's visits, medication, and therapy

Lost wages due to inability to work or job loss

Pain and suffering

Permanent disability or scarring
Initial Case Review
Pre-Suit
Litigation & Trial
Settlement
Contact Jarrett Benson Today
Request a Free Consultation
Whether you've been injured by a car door while riding a bike or hit by a distracted truck driver at a crosswalk, our team of highly skilled Denver, CO pedestrian accident attorneys can build a solid case that demonstrates the severity of your injuries and proves liability on part of the defendants. We're just a phone call away. So, feel free to reach us at (720) 730-3345 or use the contact form for a free consultation.