Dog Bite Lawyers in Denver
The Centers for Disease Control and Prevention estimates that nearly 5 million Americans report dog bites every year, and over 800,000 of these cases require medical attention. According to Colorado law, dog owners are strictly liable and accountable for serious bodily injuries their pets inflict on others regardless of whether they violated animal control laws or simply neglected their dangerous behavior.
If you're bitten by a dog, you need to contact an experienced Denver, CO Dog Bite lawyer to file a claim for any injuries sustained from the attack. At the Law Office of Jarrett Benson, we understand the responsibilities that come with dog ownership. Dog owners need to ensure their pet dog doesn't endanger others. Therefore, we know what it takes to recover maximum compensation for plaintiffs.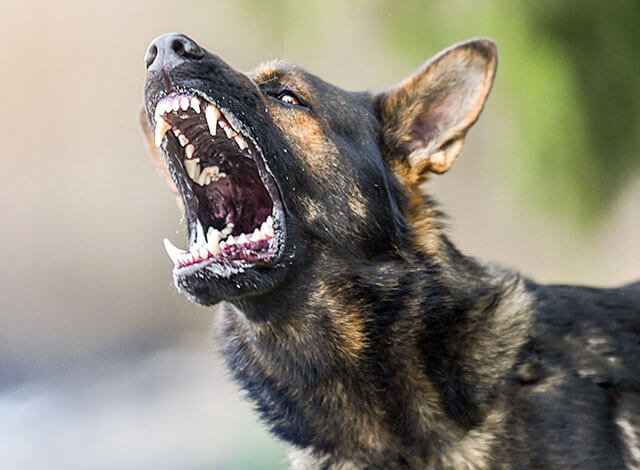 Why Choose Us as Your Denver Dog Bite Attorneys?
Dog bite cases can be tricky, so you need the best dog bite lawyers in Denver to represent you. Our highly-skilled, experienced, and sympathetic teams have taken on thousands of dog attack cases in the last decade and have a proven track record of success. We also believe in hands-on case management, which means you get an experienced attorney to see your case through, not associates or paralegals.
Common Types of Dog Bite Injuries
Types of bodily injuries caused by a dog bit depend on many factors, such as the severity of the attack, number of bites, dog breed, and size of the victim. Here are the most common injuries:
Puncture wounds

Nerve damage

Broken bones

Scars

Rabies

Face, head, and neck injuries

Death
Dog Breeds Considered Dangerous
According to the State's laws, specifically CRS 13-21-124, dogs are defined as domesticated animals with similar features or habits to that of a jackal, fox, coyote, or wolf. The most common dog breeds considered dangerous by the state include but is not limited to:
German Shepherd

Akita

Rottweiler

Doberman Pinscher

Pit Bull

Chow Chow, etc.
Dog Bite Laws and Liability in Colorado
The State of Colorado is quite strict when it comes to dog bite cases. The law states that victims of dog bites on private or public properties can sue owners for damages, regardless of the breed or owner's awareness. However, the law doesn't necessarily require dog owners to pay for the non-economic damages victims experience, such as lost wages, pain, suffering, or mental anguish except in these cases:
Failure of the owner to stop the attack

Premises liability

Violation of animal control laws

Intentional attacks on victims
Similarly, victims might not get compensation for injuries sustained from a dog bite if:
They're present on public or private property unlawfully during the attack.

The property clearly warns people with "no trespassing" or "beware of dog" signs.

They provoked the dog.

The dog is used by police or military personnel to perform their duties.
Is it always the dog owner's fault?
If a dog walker lost control of a dog and it then chased after a person, resulting in an attack or bite, the responsibility will still be of the dog owner, not the dog walker. That is another example of strict liability. The same thing goes for if a dog sitter or another caretaker were to have watch over the dog when it attacked or bit another person. The responsibility would still be with the dog owner.
What if the dog only scared another person?
Another example of strict liability for dog bites is that the Colorado statute only covers 'serious bodily injury.' Serious bodily injury is clearly defined as: "bodily injury which involves a substantial risk of death, a substantial risk of serious permanent disfigurement, a substantial risk of protracted loss or impairment of the function of any part or organ of the body, or breaks, fractures, or burns of the second or third degree." In other words, unless you were severely injured by a dog bite or attack, then you most likely do not have a case. Dog-related distress does not count, and neither does emotional stress or anxiety.
I was bit by a dog. Can I receive any non-economic damages from a dog attack?
In a dog bite or attack situation under Colorado law, there is no recovering non-economic damages. Non-economic damages are expenses without a paper trail. For example, pain and suffering or emotional distress are considered non-economic damages. Medical bills, physical therapy, and any expenses incurred from the bite and/or attack are economic damages. Economic damages may be awarded from a dog bite incident. If you feel strongly about receiving non-economic compensation, then you will need to file a common law action instead. Our Denver personal injury lawyers can advise you on your best course of action.
Will the dog need to be euthanized?
If the victim of a dog bite believes that their attack was vicious enough and that the dog is threatening enough to be euthanized, they will have to be able to prove so. In order to prove a dog is dangerous enough to be euthanized, the plaintiff will have to prove that the dog had previously bit another person prior to their attack. Also, if the plaintiff can prove that the owner knew of the dog's violence, that may also be worthy of euthanization. This is considered the 'one bite rule.'
Also under the one bite rule, dog owners will not be held liable when the victim or plaintiff was negligent. For example, if someone were to enter a home or gated area with 'Beware of Dog' signs or 'No Trespassing' signs, and beyond those parameters is where the dog bite happened, the victim will be guilty of negligence. When there is clear and legible signage warning someone of a potentially vicious dog, they enter or continue on at their own risk.
What if I was bit at my apartment or home by another tenant's dog?
In some cases, landlords may be held liable for dog bites to other tenants. This will usually only occur if the landlord previously knew that the dog was vicious or had a tendency to bite. For questions on landlords and dog attacks, please contact our personal injury lawyers directly.
Initial Case Review
Pre-Suit
Litigation & Trial
Settlement
Contact Jarrett Benson Today
Request a Free Consultation
Criminal charges, car accidents, and divorce can have devastating, lifelong consequences. You need an experienced attorney and advocate on your side. During the free, confidential consultation, Mr. Benson will answer any questions you have about your legal matter and discuss potential legal recourse and strategies.
The clock may already be ticking. Don't wait any longer. Contact us today to secure your rights and future.