Cycle & Scooter Accidents
Denver Auto Accident Attorney Jared Benson Can Help
Cycle & Scooter Accidents in Denver
No matter if you are a cyclist or on a scooter, it is imperative to your safety and the safety of everyone else that you follow the rules of the road. A major cause of both cycling and scooting accidents is simply due to riders not following the rules of the road. If you have been hit by a cyclist or scooter who was not following proper road rules, you have a right to be compensated for your injuries.
When on the road, many drivers and riders feel like they have the right of way — all of the time. This just simply isn't the case. The rules of the road clearly outline who and when the right of way is due. All riders must be conscious of their surroundings and their responsibilities at all times. Bicyclists, especially, are responsible for giving signals for all turns and stops with enough time for others to acknowledge them. Drivers tend to get frustrated with cyclists, but according to Denver laws, cyclists are permitted to be on almost all public roadways unless otherwise stated.
As for scooters, they are an entirely different rider. Unlike bicycles, which are required to use roadways, scooters are considered 'toy vehicles' and must be ridden on sidewalks. It is actually illegal for scooters to be ridden in any bicycle lanes or roadways. The Denver Department of Public Works urges that, "People riding e-scooters should yield to pedestrians in all situations." Currently, the DPW is still working on the safest way for e-scooters to navigate the city. They want to ensure that it is a safe environment for the riders as well as all fellow pedestrians and civilians.
Overall, the best way to avoid a crash or collision, no matter your mode of transportation, is to know and follow the rules of the road. A general guideline for bicycle and scooter safety is outlined below.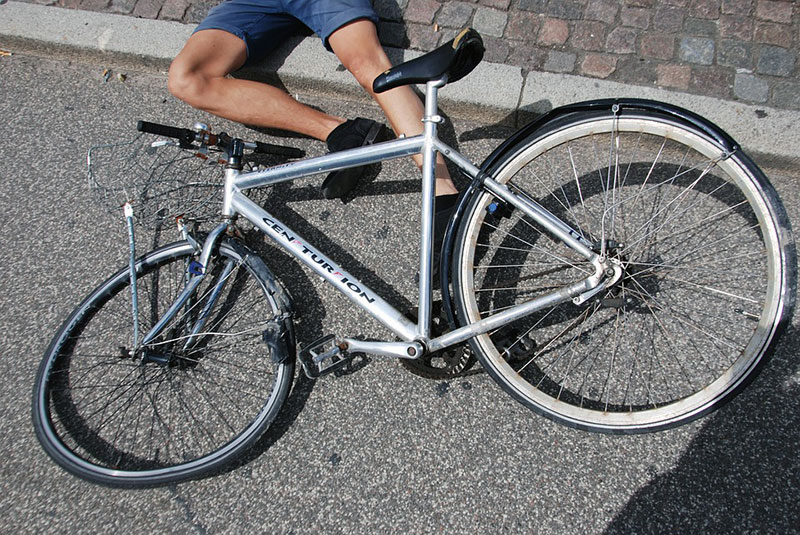 ContRide Straight
For the safety of yourself as a bicyclist and for fellow motor vehicle drivers, it is imperative that you ride in a straight line to the right of the bicycle lane. This ensures plenty of space between riders and drivers. If you are not the only cyclist on the road, or if you are traveling with a group, be sure to ride single-file.
Stay in Your Lane
Just as it is important to ride single-file in the bicycle lane, when making any turns it is extremely important that bicycles remain in the same lane as vehicles to avoid drivers' blind spots. Riding next to a vehicle when turning often ends poorly.
Always Stop at Stop Signs and Red Lights
It is not uncommon to see a cyclist fly through an intersection, regardless of there being a red light or a stop sign. Cyclists are not exempt from traffic lights or signage. If you are on a bike and you get hit while running a red light or stop sign, you better believe you are the at-fault party. Obey traffic laws just as you would in a car or as a motorcycle.
Obey Bicycle Bans
If you come across an area where there are bike bans, or 'no cycling' signs, obey the signage. If you are injured inside the parameters of the no cycling area, then it is unlikely that you will be compensated for any injuries or damage that occurs on your bike in the off-limits area.
Utilize Proper Lanes
When available, cyclist are required to use designated bike lanes. They are never to ride on sidewalks, nor main roadways when a bike lane is available. Scooters, as mentioned previously, are to ride on sidewalks and are forbidden from riding in bicycle lanes or on roadways.
Dress for the Hour
No matter if you are on a bicycle or a scooter, having the proper gear can make or break a ride. When riding at night, be sure to wear reflective and/or bright clothing. All black attire on a bike or scooter in the evening is a dangerous mix. Be sure to also have reflective lights and/or headlights on your bike or scooter when possible.
Contact Denver Car Accident lawyers at Benson Law Firm
If you or a loved one has been involved or at the cause of a bicycle or scooter accident in the state of Colorado, contact the Law Offices of Jarrett J. Benson today. We will fight for your and your family's rights. If a family member has been fatally injured at the cause of either a bicycle or scooter, we are here to guide you every step of the way. A lawsuit is in no way a means to redress grievances, it is simply a way to protect your family from costs they would not have otherwise incurred. For the best representation in the Denver metro area, contact Jarrett J. Benson today.
Involved in an motor vehicle accident and need a Denver car accident attorney?